Omin sanoin – In My Own Words – videos by young asylum seekers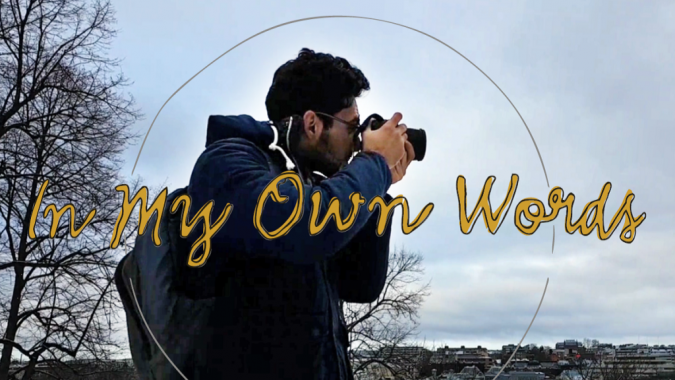 Finn Church Aid started in 2016 a new national project to support young asylum seekers in Finland. The aim of the project is to give the asylum seekers an opportunity and a platform to raise their voice in Finland and support their active participation in the society. It is also hoped that the project will facilitate mutual solidarity between the asylum seekers and other residents of Finland. The project is implemented as a part of the Changemaker Youth Network of Finnish Church Aid.
The project is targeted to young asylum seekers in Finland who have left countries such as Syria, Iraq and Afghanistan, where deteriorating security situations and ongoing conflict are unfortunately a commonplace. Now living in reception facilities in different parts of Finland, there is an identified disconnect between the more recently arrived asylum seekers and the local population.
Currently many asylum seekers remain in a passive limbo awaiting for the outcomes of their asylum applications rather than having a real opportunity to be active, valuable members of their respective communities. Many of the young asylum seekers are very eager to better their lives and dream of studies or employment in Finland.
As its main function the project organizes workshops where young people who have come to Finland as asylum seekers script, film and edit short videos on topics of their own choosing. The video clips are filmed using smartphones. Participation in the workshops doesn't require previous knowledge on filming and a workshop instructor helps with making the films. The participants are free to choose what they want to tell in their short films and how they want to express that.
The short documentaries created in the workshops tell the stories of people, their challenges, dreams and successes. The short documentaries offer a glimpse into reality and experiences of asylum seekers while also helping them to navigate through a challenging life stage.
Workshops have been organized in Helsinki, Espoo, Kirkkonummi, Hämeenlinna, Tampere Turku, Kokemäki, Jyväskylä, Pudasjärvi and Oulu.
After the workshops films are screened to the public in open events and audience has been welcomed to see the videos and discuss with the participants. The screenings have gathered a lot of publicity.
Changemaker will be publishing some of the short films also on the website and social media. The short films are always published with the permission of the makers.
Target group for the project are 18-30 year old young adults who have come to Finland as asylum seekers. The workshops are open and voluntary for everyone from the target group. In order to secure the participation of asylum seekers from different countries and regions, the workshops have interpreters.
The project started in May 2016 and will last until the end of 2017. It is implemented with the support of the Finnish Ministry of Education and Culture.