International Cooperation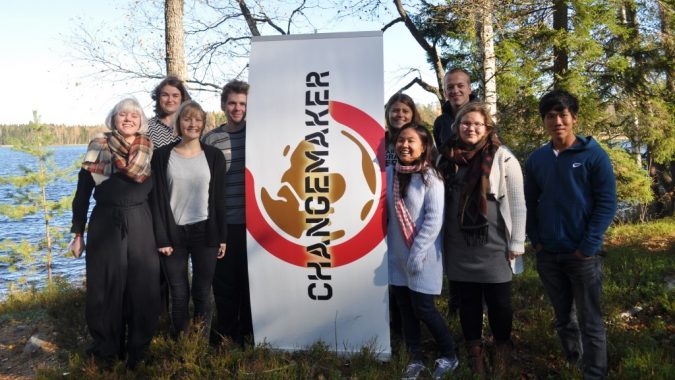 ACT Alliance Community of Practice on Youth Participation
Changemaker Finland is the youth network of Finn Church Aid and thus member of ACT Alliance (link opens in new window). In ACT Alliance, Changemaker is actively involved in the Community of Practice on Youth Participation. Accordingly to its name, the Youth CoP aims to grow youth participation within ACT Alliance and to ensure that youth are treated as agents of change and have their voices heard.
Changemaker Finland is represented in Youth CoP by two members out of whom one holds the position of co-chair in the CoP.
International Changemaker Network
Changemaker was originally established in 1992 as a youth network of Norwegian Church Aid. With the years the brilliant idea of creative and concrete advocacy done by youth spread to many countries. Since 1992 Changemaker Youth Networks have been established in Cambodia, Denmark, Finland, Iceland, Kenya, Norway, Pakistan and Somalia . All national networks have been more or less connected to various Church Aid organisations.
Together the national Changemaker Youth Networks formed an International Changemaker Network, which shared ideas and practices mainly at regular online meetings twice a year. This has been since replaces by the Act Alliance Youth CoP, which now works as the forum for international co-operation between different Changemaker-networks.
International Meetings of this network have been held in
2010 Norway
2011 Norway
2012 Finland
2013 Kenya
2014 Iceland
2016 Finland
2018 Norway
Different national Changemaker Youth Networks also cooperate by inviting and sending participants to each other's training events.
Becoming a member of the International Changemaker Network
New groups, which would like to join International Changemaker Network (in countries where Changemaker does not exist) and start using the logo, need to agree on the guidelines and fill in the Application Form for Membership in the International Changemaker Network. The application forms can be asked from and then send to Changemaker Norway. Applications will be reviewed and discussed in each national Changemaker Youth Network and then decided upon in the next possible online meeting of the International Changemaker Network.
External links (opens in a new window):
Changemaker Norway
Nødhjælpens Ungdom – Changemaker Denmark
Changemaker Sweden – Agera Youth of Sweden