Previous campaigns
Every year one of Changemaker's theme groups is in charge of that year's main campaign. In 2017 the peace group is leading Changemaker's Campaign Against Forced Returns of asylum seekers. Here you can find information on some of the previous campaigns. There is more information on the previous campaigns on the Finnish website. 
Campaign to end overfishing 2016
In 2016 Changemaker campaigned to end overfishing. Since the European Union is one of the largest players in the global fishing industry and yet a large part of the fish produce utilized within the Union is originally sourced outside its own regional waters, Changemaker sought to promote more responsible, sustainable fishing practices and legislation wherever European actors are involved. To that end Changemaker petitioned for all bilateral fisheries partnership agreements of the European Union to include set maximum fishing quotas for the European vessels engaged in activities beyond our borders. The petition collected 2586 signatures.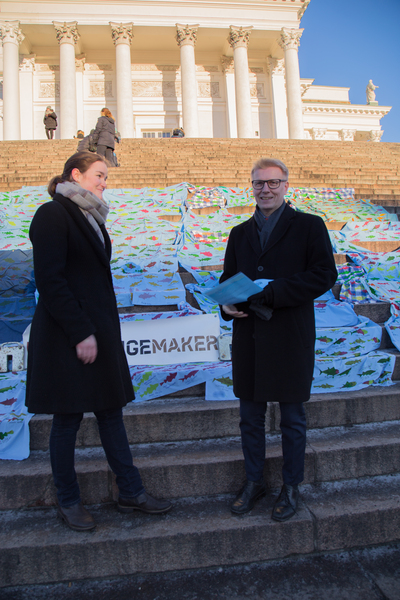 Radicals of Peace 2015
The campaign's goal was preventing violent radicalization among young people. Changemaker Finland wanted to change the way the concept of radicalization is usually discussed in the media and in our wider society. On practical level Changemaker collected loops with people's thoughts on peace on them. Throughout the year over 2000 loops were collected in different kinds of events and in November they were put together to form a chain of peace, which was hung on a Christmas tree in Helsinki city center.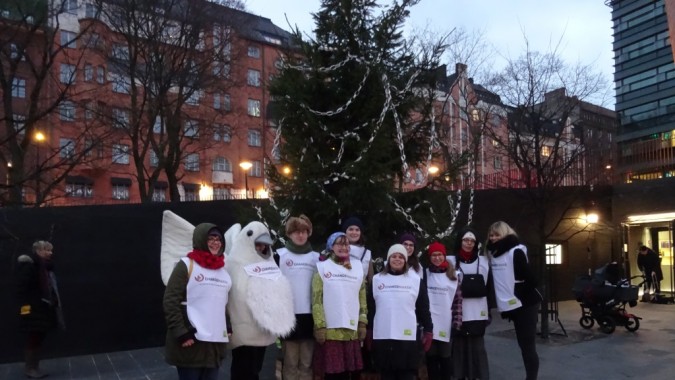 Tax Haven Tours 2014
In 2014 Changemaker participated in the Tax Haven Tours campaign with some other Finnish NGO's. The goal of the campaign was to end the way international companies avoid taxes through tax havens and to stop the illegal capital outflows. Changemaker challenged three big Finnish companies KONE, Stora Enso and UPM-kymmene to publish their country specific tax reports by sending them post cards. People could participate in the campaign by signing a post card in an event and Changemaker sent the cards to the companies. Changemaker collected 3182 post cards.

Stop Land Grabbing 2013
Stop Land Grabbing campaign focused on land grabbing done by international companies. Many times these companies' land grabbing endangers food security and farmers' livelihoods in developing countries.  In this campaign Changemaker insisted that companies owned by the Finnish government respect human rights and indigenous people's land rights when purchasing land in developing countries. The petition was signed by over 3500 people during the year in events and online.