What is Changemaker?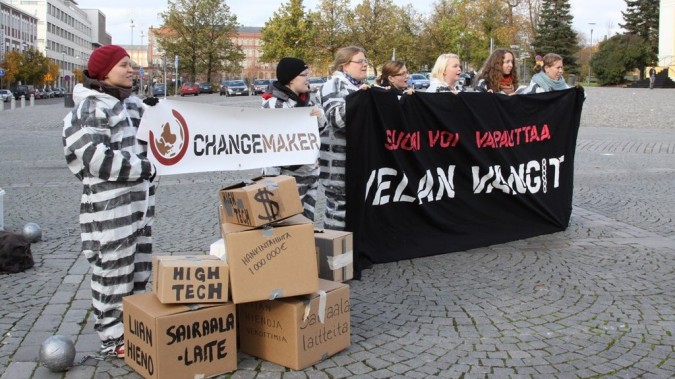 Changemaker Finland is an advocacy network for youth and young adults that strives for global justice. Our activities target social structures that uphold or promote injustice. We offer concrete means to promote peace, human rights and environmental issues. We believe that we can make a difference in solving manmade problems.
Changemaker Finland's advocacy and campaign work targets individuals, politicians, companies, and societies whose decisions have an effect on our world. Our activities are the result of youth volunteer work, and we operate on local, national and international levels.
Changemaker's values are justice, responsibility and love for one's neighbor. Our work is guided by openness of one's beliefs, as well as party-political neutrality. In addition to openness, our principles include ecology, concreteness and respect for law.
Founded in 2004, Changemaker Finland is the youth network of Finn Church Aid and thus member of ACT Alliance (link opens in new window). In ACT, Changemaker is actively engaged in the Community of Practice on Youth Participation. Accordingly to it´s name, the CoP aims to grow youth participation in ACT and to ensure that youth are treated as agents of change and have their voices heard.
Changemaker Finland is also part of a global Changemaker network which shares ideas and practices mainly at regular Skype meetings. In addition to Finland and the first network established in Norway in 1992, there are Changemaker networks also in Cambodia, Denmark, Iceland, Kenya, Pakistan and Somalia. An urge to influence on global development issues and promotion for global justice unites all Changemaker networks.
Join Changemaker Finland – together we can change the world!
Follow Changemaker Finland on Facebook, Twitter and Instagram (links open in new window).