Changemaker-weekend
Ulvila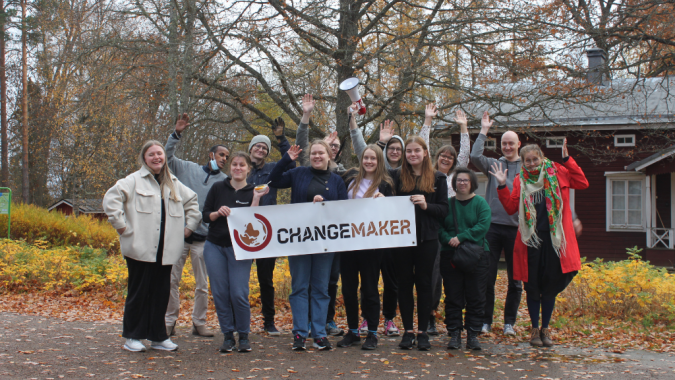 This spring we will once again get a chance to spend the best weekend of the year together with young people eager for change and global justice!
Changemaker training weekend will be held in Ulvila from the 8th to 10th of April 2022. The weekend will inspire the participants to advocate for global justice and campaign for a better world. You will learn easy ways to make a difference in the world around you through trainings, workshops and campaign planning meetings.
The weekend's workshops include a deepdive into the relations between overconsumption and climate by Finn Church Aid climate specialists, a look into overconsumption from an economical point of view, and a guide to a sustainable everyday life from Sitra. At least 2/3 workshops will be in English. During the weekend, Changemaker's main campaign for 2022 on overconsumption will be launched.
The camp starts on Friday evening and ends by Sunday around noon. The participants will be provided a bus to the Pori railway station near by. A more detailed schedule for the weekend will be provided later on.
Changemaker-weekend is meant for youth aged 13 to 35 years old, who want to learn more about societal change and advocacy for global justice. The weekend is an excellent way to get to know Changemaker network's activities and other Changemakers across Finland. You can participate in the weekend without prior knowledge of Changemaker or the themes of the weekend. All new and old members are welcome!
Participation is free for all Changemaker members and all travelling costs are compensated for. Others will have to pay a participation fee of 20 euros. You can easily join the network through here. (link opens up in a new tab)
Registration is open until April 1st!
SIGN UP
A bus to the camp center will leave from Pori railway station at 18 on Friday.
The bus will leave from the camp center on Sunday at 12 towards Pori city center, where we will hold a campaign action. The camp will end after the action on Sunday at 14.
Please book your own tickets to and from Pori. If you are a member of Changemaker, we will reimburse the ticket price after the event.
For more information about the event, get in touch with Changemaker-coordinator Helmi (helmi.saksholm@kua.fi).