Globalisti journalism training
Online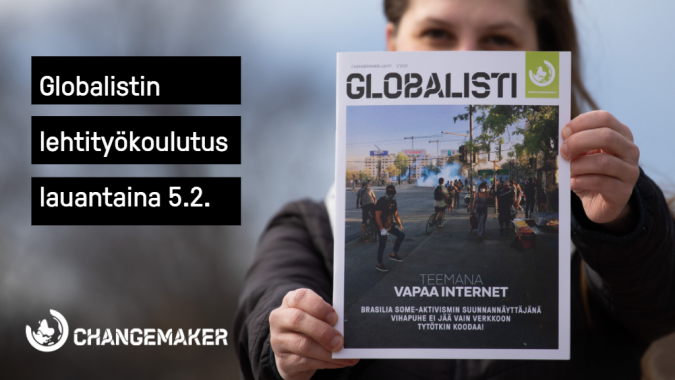 Sign up for the event here. (link opens in a new tab)
Are you interested in producing a magazine? Would you like to learn how you can change the world with writing? In Globalisti journalism training you get to learn basic information about journalisti work from writing to picture editing. You don't need previous knowledge about journalistic work to participate. So join in now!
A whole-day training will be held on Saturday 5th of February. In the morning we will learn basic principles of journalistic work and how to write for Changemaker's Globalisti-magazine. In case you are new to producing a magazine, this will give you all the basic knowledge you need in order to join the Globalisti editorial group! This includes planning articles, choosing a point of view and different article types in Globalisti-magazine. After lunch we will dive deeper into principles of journalistic work with the help of an outside trainer.
The schedule for the day is as follows:
10-12 Basic training: the Globalisti making process and journalistic work. How to produce a magazine?
12-13 Lunch break
13-14:00 advanced training: how to make write journalistic text
14-15:00 How to write a good and interesting article -workshop
15:15-17:15 Editorial meeting for Globalisti magazine's next issue
The training is free of charge but requires a membership in the Changemaker network. The mebership is free of charge and you can join as you sign up. Changemaker membership is open to any person between 13 to 35-years-od who is residing in Finland or a Finnish citizen. The training will be held on Microsoft Teams.
More information from Changemaker-coordinator Matias Uusisilta (matias.uusisilta@kua.fi)